Revealed:

Two Email Marketing Experts Share With You Their Secret Weapon That Will Give Anyone An Unfair Advantage...
What impresses me the most about these guys is the thought that goes into their products. Their products solve real problems. There are no gimmicks, no fluff, no filler. They create simple, easy to install and use products that make my life easier.

John Taylor

IM Income Lab Customer
Mark Hess and Michael Thomas are two of the most respectable marketers I have ever dealt with. Their honesty and integrity are above reproach. I cannot say enough good things about these guys. Their products are top-quality and their customer service is fantastic.

Teresa Beeman

IM Income Lab Customer
It's Time To Start Making
REAL

Money..
When It Comes To Email Marketing Most People Start The Same Way...
So you want to start an online business so you start doing some research.
Most people will buy a few courses, watch a few videos, and start following around people who are already successful.
Everyone who knows anything about making money online will say that you need to build a list and sell stuff to that list via email.
Email marketing really is the fastest, easiest way to make money. You write an email and click the send button.
It's on demand traffic being sent where ever you want it to go any time you want.
After deciding that email marketing is where the money's at...
People then will typically start by signing up with a major autoresponder service.
So they sign up with one and start paying the monthly fee...
They work hard building up a list of subscribers and people who have opted in to join their list.
Then they start sending emails, but practically no one is opening them.
At the same time, maybe someone has called them from the company's compliance department to question them about something they're doing.
This happens all the time.
Here's the truth when it comes to those big email marketing autoresponder companies...
You Need To Play By Their Rules. They Are In Total Control.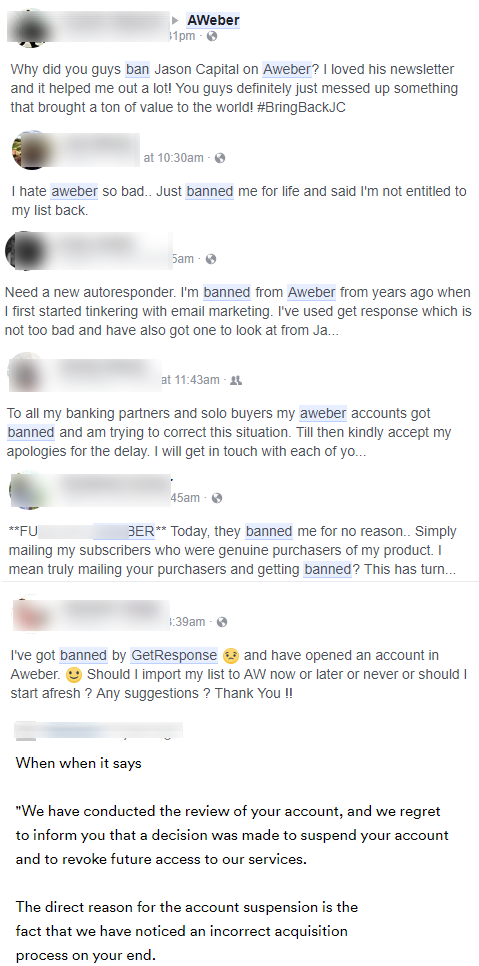 Do a simple Facebook or Google search and you will find a ton of people who talk about major autoresponder companies banning them from using their system.
Not just temporarily banning them, it's a permanent ban.
If you're doing something that these companies don't like, you're out.
Sometimes these companies will give you the mailing list back, sometimes they won't.
You are restricted to playing by their rules and trust us, it's a big mistake letting someone else control such an important part of your business.
Their compliance department is always watching.
Now here's something else you need to know especially if you're currently with a major autoresponder company and you're wondering why your subscribers are not getting your emails...
Right now, when using their system you have been grouped in along side hundreds or even thousands of other people sending emails out to their subscribers.
That means, by nature, their deliverability will be lower because the IP addresses they are sending emails from, some of them are always on and off of blacklists.
The reason for that is if you have hundreds of people send emails from the same IP address, bounces and spam complaints will all be under that one IP address that is shared.
It's no wonder why emails don't reach a majority of your subscribers.
So, just based on the two things we just said, basically they are charging you expensive monthly fee's for something that you can be banned from at any moment and if you are lucky enough not to get banned, your emails still are not hitting inboxes like they should.
You're paying them big money each and every month for a bunch of nothing...
But There's A Much Better Way...
Believe it or not, the vast majority of people continue using these major autoresponder companies because they don't know that there's a better way.
So people put up with compliance departments constantly hovering over them, poor interfaces, down time, and everything else that goes along with them.
There's many people that will jump from company to company trying to find a better one but soon realizing they are all the same.
All the smart people realize at one point or another realize they need to go with a self-hosted solution.
That's a much better way to go.
The problem with self-hosted platforms is that it's difficult to get started.
All the current solutions out there require a ton of technical skill, a long, time-consuming setup process, and you still may not get all the features offered by major autoresponder companies.
Up until now, people have been stuck and forced to use a service where deep down they know it's not the right thing to do.
But that changes today...
Today, we are handing you a solution that you would be crazy not to get your hands on if you're at all serious about building your business and email marketing.
We've been on the receiving end of traffic sent from mailing lists and we sent traffic to offers using our mailing list to rake in commissions.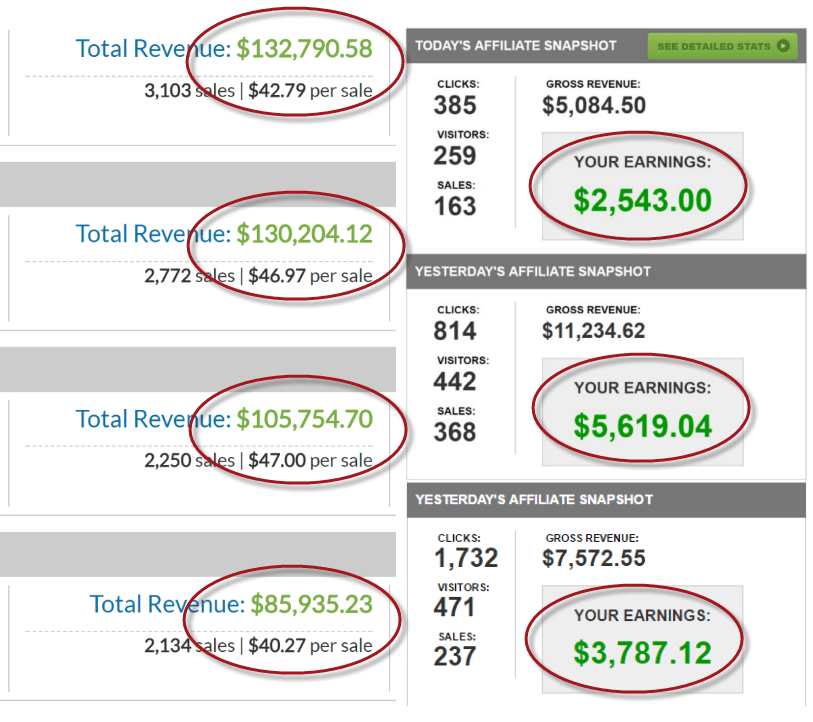 We are the real deal and we created our email marketing solution from scratch to use within our own business.
Now you can enjoy the same type of results that we've been able to accomplish with our email marketing.
We packaged up our technology, and we are giving it to you in the form of a WordPress plugin...
Introducing WP Response Pro...
You can forget about paying expensive autoresponder bills to major companies each and every month, forget about nosy compliance departments, our WordPress plugin has EVERYTHING you need to start making real money.
And it includes features that you can't find anywhere else.
This is the best solution out there.
There's Nothing Else Like This On The Market...
Send Marketing Emails For FREE
Yes, you heard that right. If you have a small list or you're just starting out, you can send emails straight from your WordPress site. You don't need to mess with any settings. Install our plugin, activate it, create a form, and start building your list.
Copy & Paste Third-Party Sender Integration
If you have a larger list WP Responder Pro integrates with all premium SMTP services. The big advantage to doing this is higher deliverability versus major autoresponder companies. The more of your emails that hit the inbox, the more money you make.
20 Second Integration With Zapier
Our IPN manually integrates with Zapier which means you can take advantage of all their built in advanced automation features. The whole process takes just 20 seconds and you will be up and running with Zapier integration.
Create An Unlimited Number Of Lists
Whether you need 1 or 1000 different lists you can create an unlimited number to help you segment and manage things better. That means you know exactly who your email should go to in order to get the best possible results. Create a list for different products, squeeze pages, or anything else. It's entirely up to you.
Import All Of Your Existing Subscribers In 1-Click
Unlike 'big' autoresponder companies, you can import any list! There's no verification process or hoops to jump through in order to start mailing them. You can import an unlimited number of subscribers and start mailing them in seconds.
Easy Copy & Paste Form Code With Optin Form Designer
We did the hard part for you. Easily design your optin forms using the built-in design wizard then copy & paste that code anywhere on your site or into ANY WordPress page builder such as OptimizePress, Profit Builder, Thrive, etc. It doesn't get any easier.
Total Email Marketing Broadcast Control With BLASTControl
Got something to say? Click a button to create a new broadcast, write the email, you have full control of which lists receive the email, what date and time the email goes out, and you can even skip people who opened a previous email so you're not bombarding them.
Built-In Exclusive SMARTSequence Autoresponder Technology
Listen to this. Sending follow-up sequences as part of an autoresponder series just got faster, easier, and smarter. Not only can you schedule a series of autoresponder messages ahead of time. You can also schedule additional messages if someone did not open a previous email.
Insert Built-In Countdown Timers Into Your Emails In 1-Click
This is something that's going to make you more money. Creating urgency gets people off the fence and buying. With a click of a button you can insert countdown timers into your emails. Perfect for limited time affiliate promotions or special offers.
Built-In Exclusive SMARTPixel Technology
You are going to love this... With our exclusive SMARTPixel technology you can now move subscribers around to different lists based on the pages they visit on your site without them ever having to fill in another form with their email address. It's totally invisible.
Built-In Email Marketing Statistics and Analysis
With these stats you can see exactly whats going on with your subscribers. How many new subscribers you have, unsubscribes, who opened your email, who click the link within your email and all of it happens in real time.
Easily Create Your Emails Using Our WYSIWYG Editor
It doesn't get any easier than this. Our WYSIWYG editor makes creating emails lightning fast. You have full control over font styles, insert images in 1-Click, countdown timers, anything you want. You don't need to write a single line of code or use some messy drag & drop interface.
Here's The Best Part About WP Response Pro...
With all of those features you would think that using our plugin would require a ton of experience and technical skill.
Well, that's not the case.
It's super easy to use. We made it simple.
Literally, anyone can use it within minutes no matter what level of technical ability they have.
Everything is copy & paste. Creating emails and autoresponser series doesn't get any easier.
It's all laid out in front of you with no clunky interfaces to mess with.
Don't believe us?
Just watch the video below and you will see what we mean (you're going to be blown away)...
Watch The Quick Start Demo Video:
Send Marketing Emails For FREE
Copy & Paste Third-Party Sender Integration
20 Second Integration With Zapier
Create An Unlimited Number Of Lists
Import All Of Your Existing Subscribers In 1-Click
Easy Copy & Paste Form Code With Optin Form Designer
Insert Countdown Timers Into Your Emails In 1-Click
Built-In Email Marketing Statistics and Analysis
Easily Create Emails With Our WYSIWYG Editor
Use Our Optin Form Builder Or Simply Copy & Paste Into
ANY

Page Builder, Popup Builder, WordPress Theme, On The Market To Immediately Start Collecting Leads...
Honestly, At This Point You Should Be Ready To Buy...
With WP Response Pro you have absolutely all the features you need to make money email marketing (and then some).
Again, this is the same exact tested and proven technology we are using within our business.
If you're serious about building your business, if you want to make six figures or more per year email marketing, the opportunity is there.
You have the technology to do it. We hope you put it to good use.
But we also want to do something else... we want to give you more.
We want to make sure that you reach the next level and make the most money possible while using our WordPress plugin.
So we are including exclusive insider six figure email marketing training.
Originally, we were going to offer this as an upsell where you would have to pay extra money in order to gain access.
And eventually, we are going to do that...
But today, we you are going to gain instant access to our training absolutely FREE when you purchase your copy of WP Response Pro.
This is not some watered down training where we just tell you things that you want to hear.
This is as real as it gets and you won't find this kind of insider information anywhere else.
These are the same tactics and strategies that we use within our business and they make us serious money: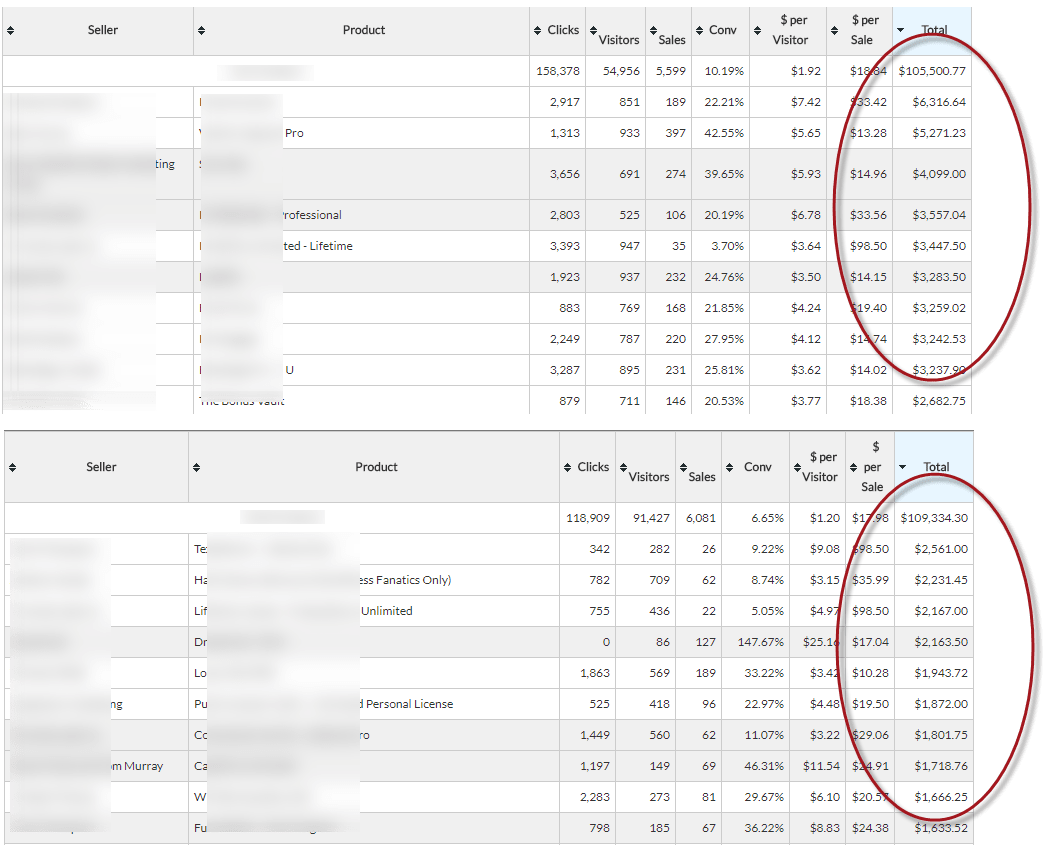 Here are just some of the thing you'll learn inside our Six Figure Email Marketing Training:
The Super Quick Affiliate Funnel: We are going to show you a type of affiliate funnel that you can create within 5 minutes. You don't even have to create any sort of freebie to give away. Go straight for the sale and make money.
The Content You Should Be Sending Your List: Trust me, it's not what you think and may be a little controversial. But we don't sugar coat anything.
How To Setup Winning Evergreen Autoresponder Sequences: Automation is a good thing. We are going to show you how to setup a money making sequence using WP Response Pro. You keep this running 24/7/365.
The Pluigin That We Used To Bring In Thousands Of Subscribers: If you want to build your list and get more subscribers, you need to start using the one plugin on all of your sites.
How To Structure Your Emails For Maximum Results: The way you structure your email is important. It can mean the difference between making a few sales and making a ton of them.
And Much More...
So, are you ready to get started?
Are you ready to get your hands on the best solution when it comes to email marketing?
Are you ready to make more money?
Right now, we are going to make you a serious offer that is only available for a limited time.
Purchase our plugin now for a one-off price with NO monthly or yearly fee.
You pay one time and you can use it forever.
We provide full support should you run into any issues.
And, you're protected by our 30 Day Money Back guarantee that we always honor.
Both Mark and Michael are two of the most professional and knowledgeable IM marketers/developers in the Internet Marketing space. They are a pleasure deal and work with. Their products are absolutely awesome.

Robert Githens

IM Income Lab Customer
Michael & Mark are the best premium WordPress developers out there. They develop simple to use, but powerful solutions for the internet marketing community. I use at least 5 of their plugins on every one of my sites. Their customer support is top notch.

Jeff Bear

IM Income Lab Customer
YES! I Want Instant Access...
One-Time Price. NO Monthly Fee. NO Yearly Fee.
This is the guarantee text
Feature 1

Install On One Site You Own

Feature 2

Limited Autoresponder Functionality

Feature 3

Limited Number of Emails and Lists

Feature 4

Premium Email Deliverability

Feature 5

1-Year Updates Support
*Plus, For A Limited Time You Get Full Insider Access To Our Exclusive Six Figure Email Marketing Training
We Test Everything and Create In-Demand, Proven Software, That Our Customers Love...
Income Architect, Infopreneur, and WordPress Enthusiast...
Living The Dream, World Traveler, and Coding Genius...
Outstanding Support – Should you run into any issues with our software we are always here to help in a timely manner.
Money Back Guarantee – We offer a money back guarantee on all of our products. No questions asked, no drama, if you're not happy we will gladly give you a refund.
Fully Updated – All of our software is constantly updated to meet any type of changing environment.
Please Note: This is not a get rich quick scheme. We make every effort to ensure that we accurately represent our products and their potential for income. There is no guarantee that you will make money. As with any business, your results may vary, and will be based on your individual capacity, business experience, expertise, and level of desire. There are no guarantees concerning the level of success you may experience. The screenshots of income used on this page are exceptional results, which do not apply to the average purchaser, and are not intended to represent or guarantee that anyone will achieve the same or similar results. There is no assurance that examples of past earnings can be duplicated in the future. We cannot guarantee your future results and/or success. There are some unknown risks in business and on the internet that we cannot foresee which can reduce results. Click here to view our full earnings disclaimer.
*"WordPress" is a registered trademark of Automattic, Inc.
© Copyright IM Income Lab. All Rights Reserved.